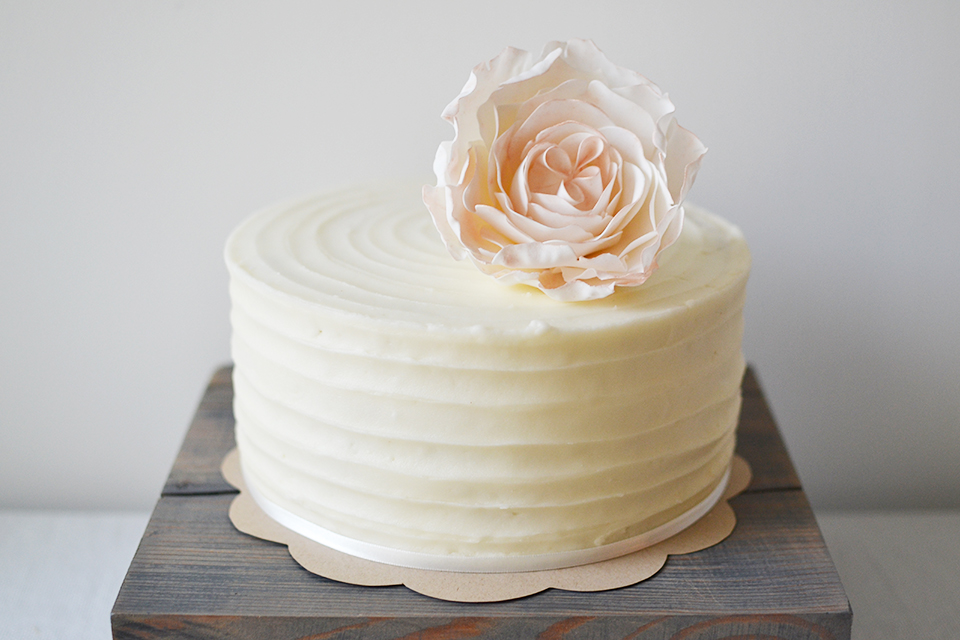 For a rustic dessert table, a rustic designed cake is a must!
This cake is simple, but adds a special touch to the
Rustic Experience
. The Rustic Cake is a three layer fresh strawberry cake, filled with a sweet and tangy cream cheese filling, and frosted with a buttercream that is sure to win over your guests' approval. It's simple to achieve the elegant, organic look of the rustic cake, and a gumpaste flower, or fresh edible flowers, is the perfect way to complete the look.
Recipes
For The Rustic Cake
Tools
Used For The Rustic Cake
The perfect knife to get even layers of cake
For easy frosting and smoothing
For flawless frosting
For a sharp top edge of frosting
To build the cakes on
To achieve a more organic look to your cake's frosting, begin with a smoothly frosted cake with even edges. This will serve as a nice base for decorating. Place the cake in the fridge to firm up a bit. Once the cake is firm, apply a thin layer of frosting onto the sides and the top of the cake. After the thin layer is applied, run an angled spatula horizontally around the cake, starting at the bottom of the cake, and pressing in slightly to make an indention with the spatula. Go around the entire cake till you return back to your starting point. Next, place the angled spatula above the line you just created, and repeat. Continue this pattern line by line up the side, and then the top of the cake
Placing a gumpaste flower adds character and charm to a simple iced cake. Learn how to make your own at
Craftsy
, or purchase one from the many talented people on
Etsy
Presentation
Ideas For The Rustic Cake
Present your cake on a cake stand of your choice or even use a wood plank for an ultra rustic look. We handmade our wooden cake stand to go with our rustic theme, and placed the cake on a scalloped piece of cardstock. You can download the scallop template
here
If you're not feeling like a DIY project, check out
this wooden cake stand
as an option to complete the rustic look