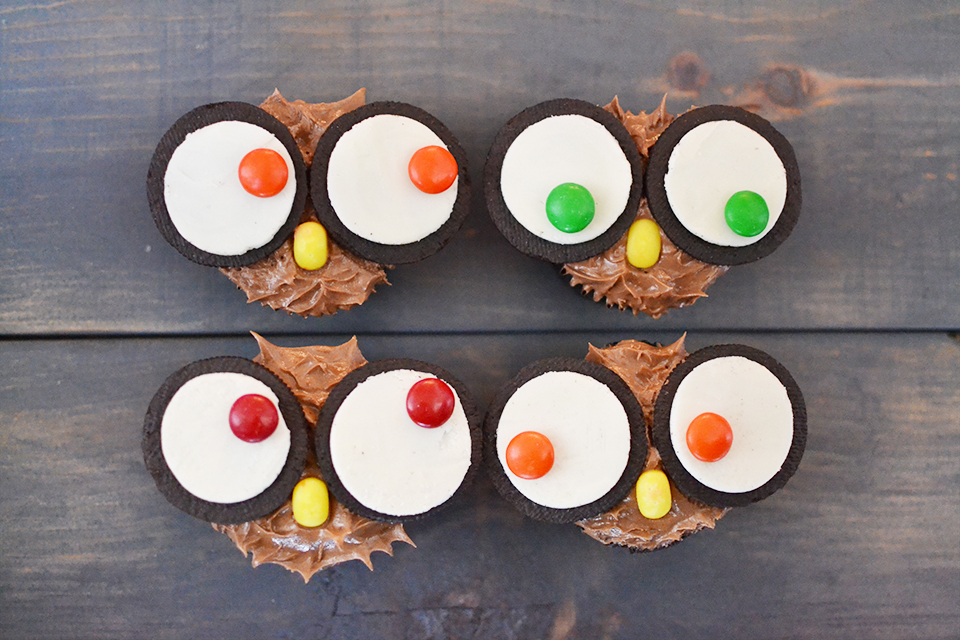 What A Hoot Owls: Oreo Cupcake Owls Tutorial

October 17, 2013

Distinguished with their big eyes set on a feathered body, delicious edible owls can be made with just a few ingredients. Cupcake bodies, candy corn beaks, frosting feathers, and Oreo cookie with M&M eyes are all you need to make these cute, tasty, and mysterious desserts that people will flock to (sorry we couldn't resist). Just follow our Oreo Cupcake Owls step-by-step tutorial to create a parliament of owls - yes, that's what you call a group of owls ;) These are also part of our

Halloween Party Inspiration

, so if you're looking for other Halloween ideas,

get inspired here

.

Oreo Cupcake Owls Tutorial Supplies

Oreo Cookies

Candy Corn

M&M's

Oreo Cupcake Owls Tutorial Step-By-Step Directions

1) Bake cupcakes and prepare the frosting of your choice.

2) Frost the cupcakes with a small palette knife or butter knife.

3) With your palette knife or butter knife, pull a bit of frosting up at the top of the cupcakes in two places.

4) This will resemble the feather tufts above the eyes of the owl.

5) Place a candy corn piece, pointy side down, in the middle lower half of the cupcakes, resembling the Owl's beak.

6) Next, place two cream filled Oreo halves, above the candy corn, to resemble the eyes, and lightly push in two M&M's to complete the look.

7) There you have it! What a hoot, right?

Oreo Cupcake Owls Tutorial Sweet Notes

With your palette knife, pull frosting up all over the cupcakes as you did for the ears, giving the cupcakes some texture, mimicking the Owl's feathers. Make sure to keep the two feather tufts above the eyes distinguishable

When you pull apart the Oreo, unless you're an Oreo Master, there will be some cookie crumbs on the white creme. Take a small sharp knife and scrape off the cookie crumbs so the whites of the eyes are crumb free

When serving these cupcakes, place the eyes in all different directions, it's a hoot!
If you like reading about our What A Hoot Owls: Oreo Cupcake Owls Tutorial, along with our other tutorials, we're curious if you have your own tutorials to share with other Sweet Society readers?
If you'd like to contribute and have your tutorials "Ooooo'd" and "Ahhhh'd" by thousands of people
,
become a Sweet Society contributor here
.
View Some Of Our Recent Recipes: