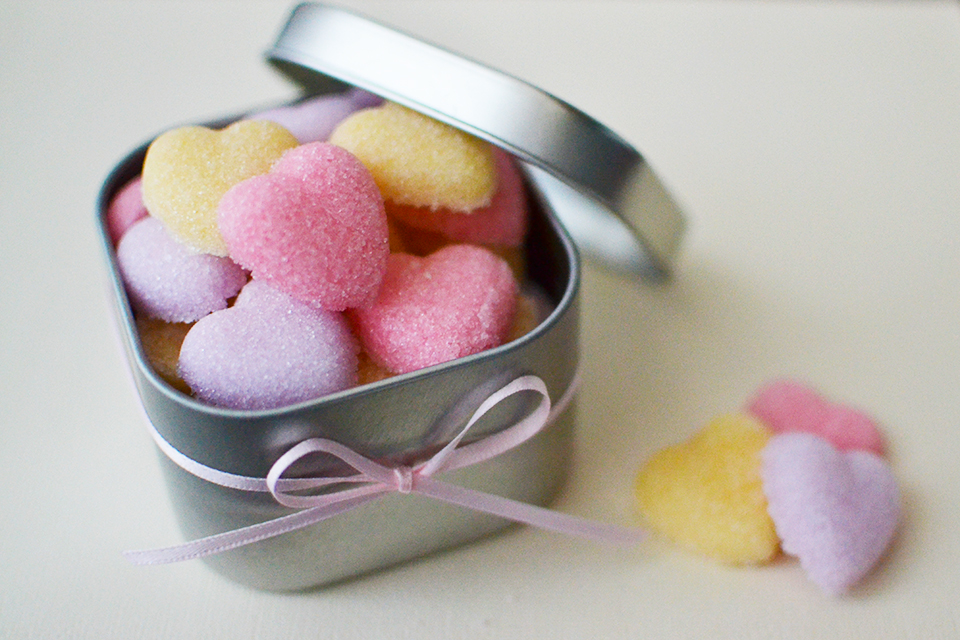 Sugar Hearts Tutorial: Not Your Ordinary Sugar Cubes
Sugar cubes are a convenient way to sweeten up your coffee, tea, or drink of choice, since they're easy to handle and come pre-measured to about 1 teaspoon each. These sugar hearts are like sugar cubes, but have a little more color and style, which makes them perfect for the upcoming Valentine's Day holiday. And although the actual amount of sugar will vary based on the mold you use to make their heart shape, they are still a lovely way to brighten a loved one's morning on February 14th, or any day for that matter. It's hard not to smile when you plop a lightly colored heart-shaped sugar cube into your morning coffee. Store them and bring them out on special occasions, dinner parties, or gift them to a special friend.
Sugar Hearts Tutorial Supplies
Sugar
Water
Measuring Spoons
Fork
Sugar Hearts Tutorial Step-By-Step Directions
1) Collect your supplies.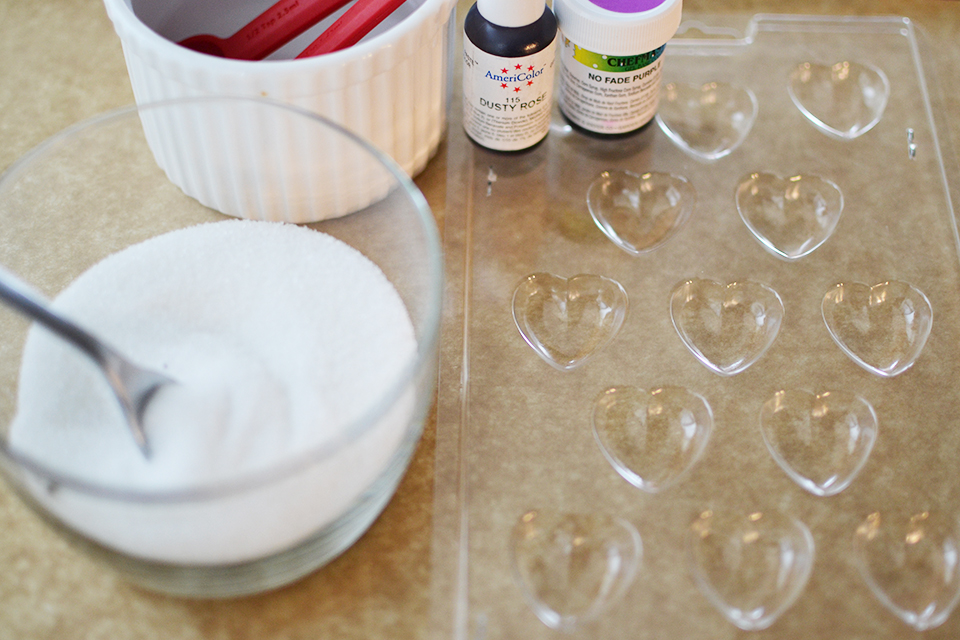 2) In a bowl, add 1/2 cup of sugar, 3/4 tsp of water, and a bit of food coloring. We suggest adding the food coloring with a toothpick - a little goes a long way. Mix this up well with a fork, until the sugar is a paste-like consistency (If you can grab a chunk of sugar with your fingers and it sticks together, then you're on the right track)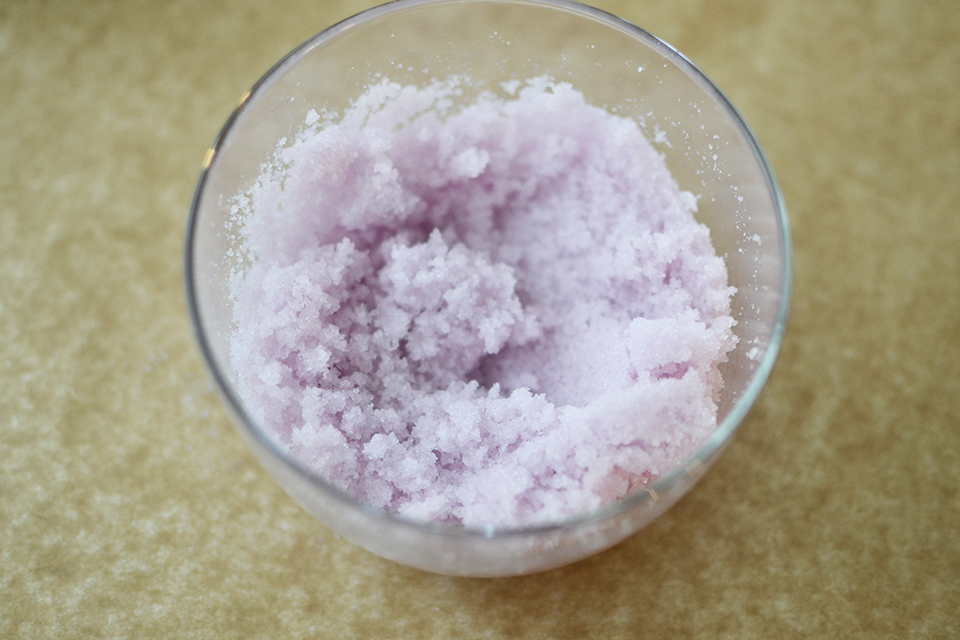 3) Pack the sugar into the heart mold. Using an angled spatula, level the sugar so the hearts are flat. Let the sugar hearts sit in the mold for about an hour.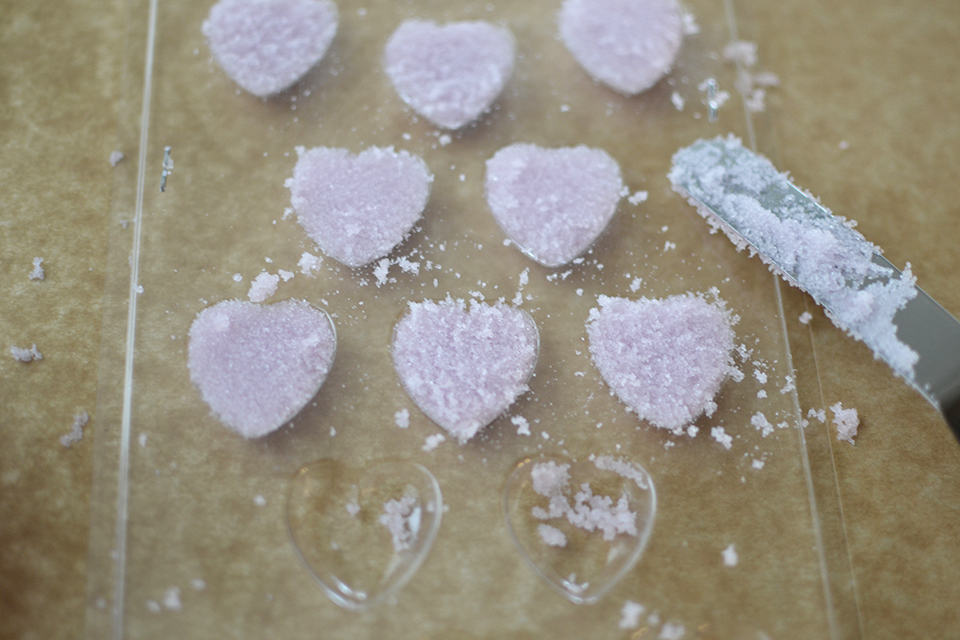 4) Once your sugar hearts have been in the mold for about an hour, turn them over onto parchment paper. The sugar hearts should fall out on their own. If they aren't falling out of the mold, just give the mold a little tap. Let the sugar hearts sit untouched for a few hours to harden.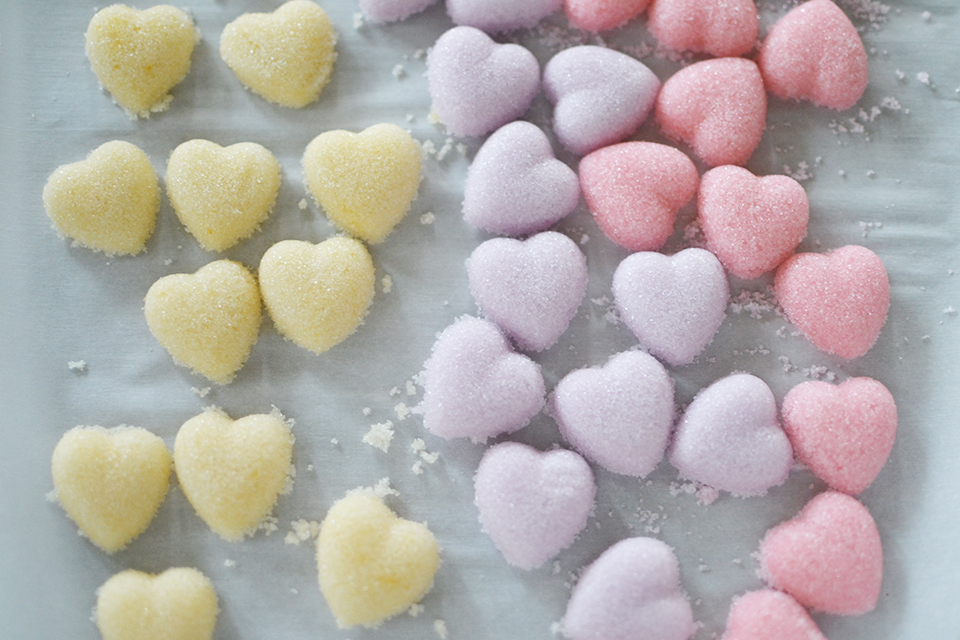 5) If you don't have a heart mold, you can use a heart cookie cutter. Fill the cutter with sugar and pack it in well.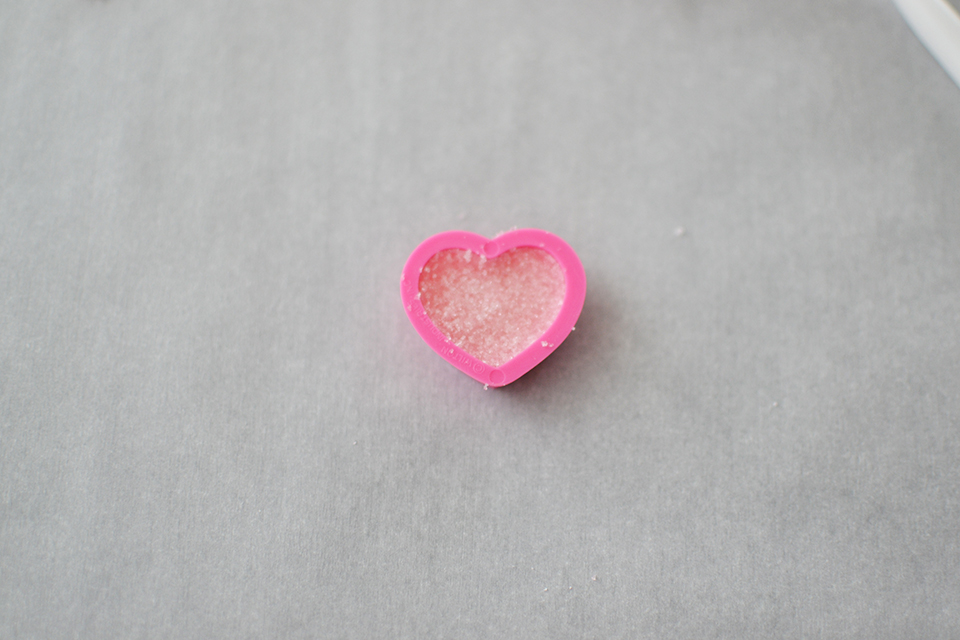 6) Using your spatula or fork, tap the side of the cutter and slowly pull it up.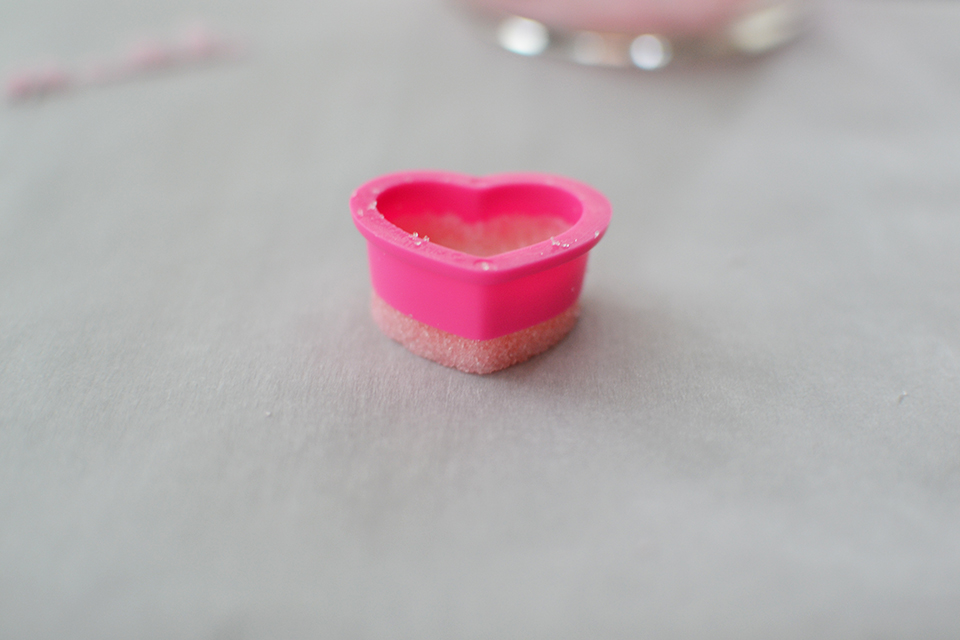 7) Let this heart dry for a few hours before moving it.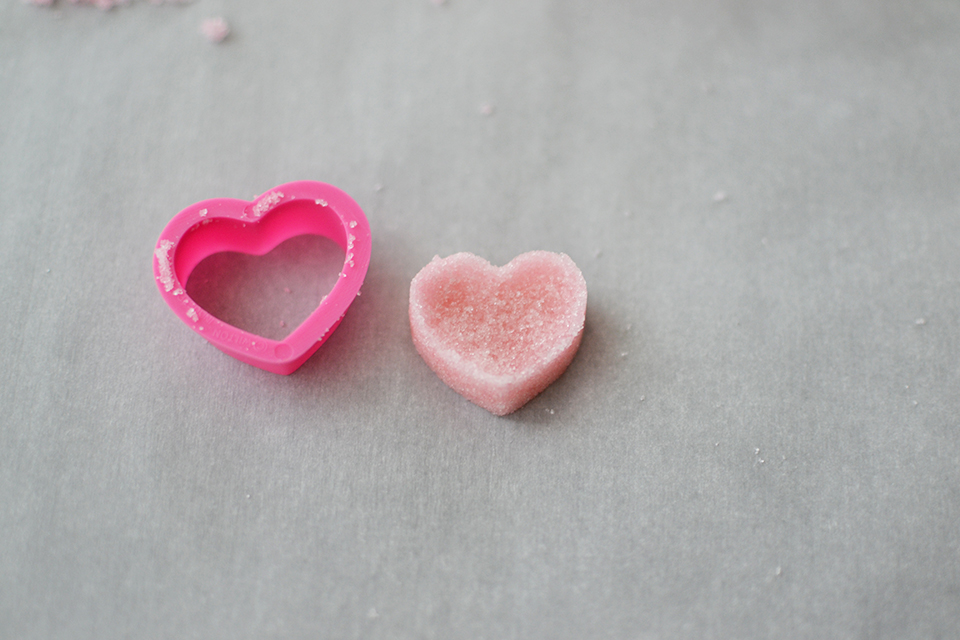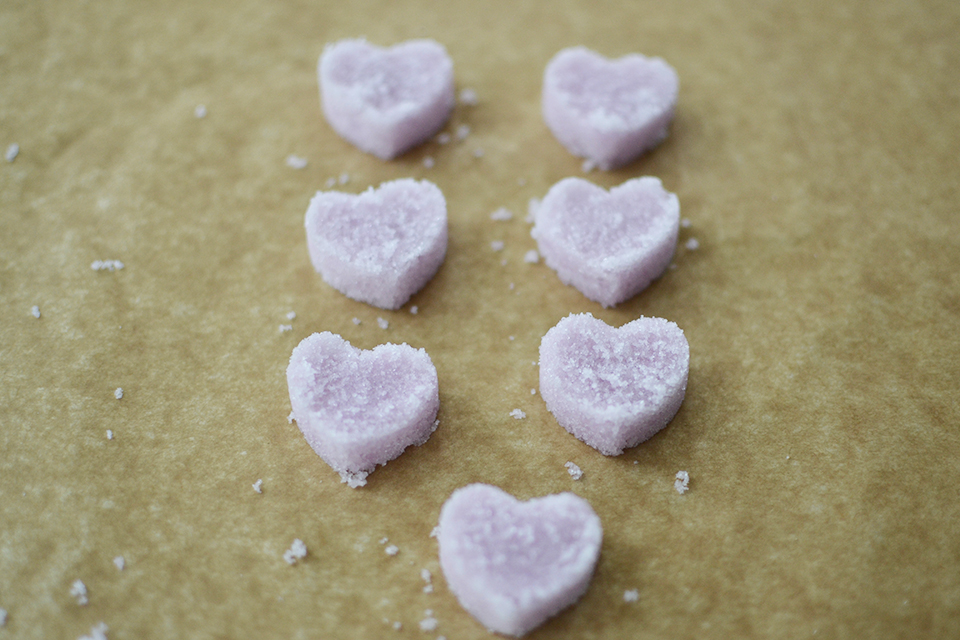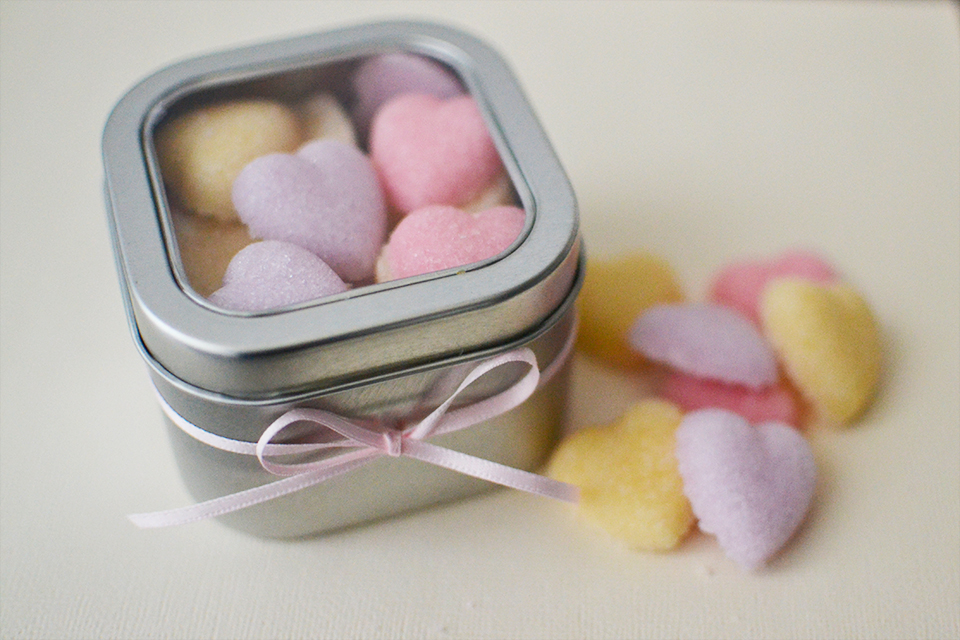 Sugar Hearts Tutorial Sweet Notes
Store your sugar hearts in an air-tight container
Start off with a 1/2 tsp of water if you live in a humid area. If the sugar is not a paste-like consistency, then add an extra 1/4 tsp of water
If you have time on your hands, let the sugar hearts sit in the mold for a few hours before turning them out onto parchment. This will ensure that they will not break when taken out of the mold