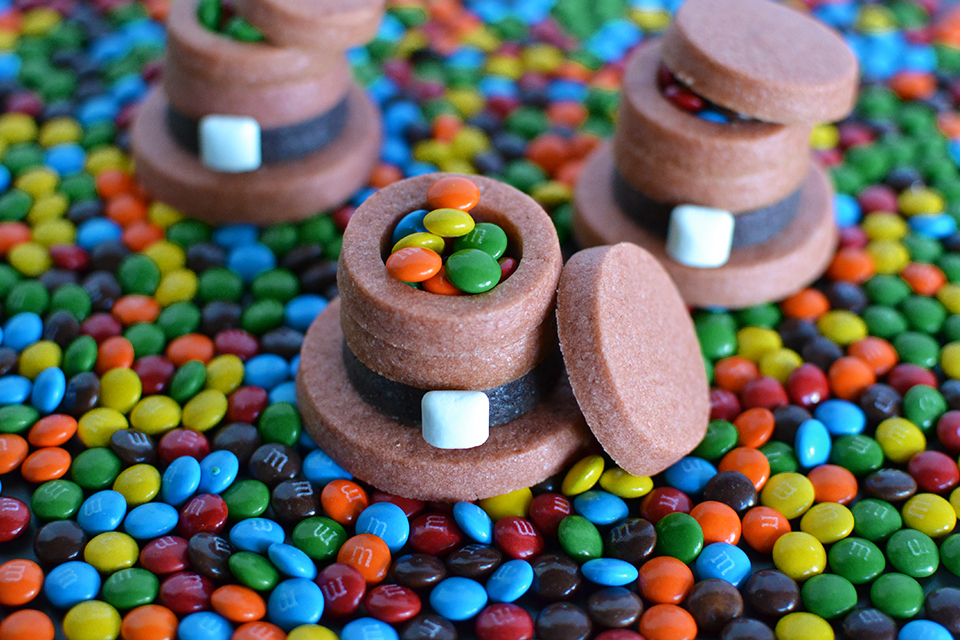 Pilgrim Hat Surprise Cookies Tutorial

November 24, 2013

What's a Thanksgiving meal without turkey, cranberry sauce, and Pilgrim Hat Surprise Cookies. Well, maybe the Pilgrim Hat Cookies aren't a tradition quite yet... but maybe they will be after you complete this tutorial. Pilgrim Hat Surprise Cookies are a treat that hold their own surprise treat right inside of the hat. We chose mini M&M's, but anything that fits is fair game. There are a few days left till Thanksgiving, so whip up a batch of our

cut-out sugar cookies

and get stacking... these cookies will put all other Thanksgiving cookies to shame.

Stackable Pilgrim Hat Cookies Tutorial Supplies

Cut-Out Sugar Cookies Recipe

(3/4 batch colored brown, 1/4 batch colored dark brown or black) Cut-out a round brown 2-inch sized cookie for the base. One round black and two round brown 1.5-inch cookies with a 1-inch center removed, for building up the hat, and one round 1 or 1.5-inch sized cookie for the top of the hat

Frosting of your choice or

Royal Icing

(we used store bought cookie icing)

Mini M&M's

Square Candy (we used Eclipse gum that we halved)

Pilgrim Hat Surprise Cookies Tutorial Step-By-Step Directions

1) Gather your supplies.

2) Start with a 2-inch brown cookie for the base of the hat.

3) Next, take a black 1.5-inch open center cookie, squeeze a thin layer of frosting onto the bottom and place it in the middle of the 2-inch cookie.

4) Then, grab a brown 1.5-inch open center cookie, add some frosting onto the bottom, and stack upon the black cookie.

5) Repeat with another brown 1.5 inch open center cookie.

6) Next, take a piece of square gum or candy, dot a bit of frosting onto the back of the gum, and place it onto the lower middle section of the hat. Hold for about 30 seconds until dry.

7) Fill the Pilgrim hat with mini M&M's (or small candies of your choice).

8) Place 1-inch or 1.5-inch brown cookie on top to hide the candy for its big reveal, or leave the top off completely.

Pilgrim Hat Surprise Cookies Sweet Notes

Feel free to be creative with your candy choices. We suggest buying mini candies for the middle of the Pilgrim Hats since it fits best

We used Americolor brown and black to color our cookie dough
If you like reading about our Pilgrim Hat Surprise Cookies Tutorial, along with our other tutorials, we're curious if you have your own tutorials to share with other Sweet Society readers?
If you'd like to contribute and have your tutorials "Ooooo'd" and "Ahhhh'd" by thousands of people
,
become a Sweet Society contributor here
.
View Some Of Our Recent Recipes: