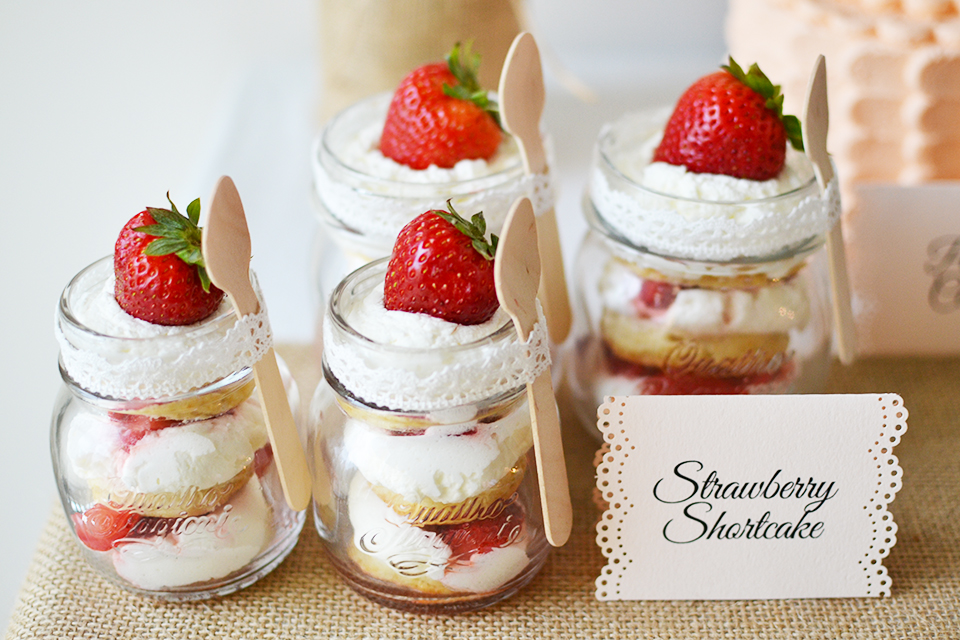 Strawberry Shortcake is a light and refreshing dessert that most people seem to enjoy.
The non-overly sweet shortcake pairs perfectly with the sweetened strawberries and whipped cream topping. Layering the Strawberry Shortcake in a mason jar gives your guests a perfect bite each time, and lends itself to the theme. We had to include Strawberry Shortcake in our rustic dessert experience because it tastes great, displays beautifully, and has a naturally rustic feel when serving them out of mason jars.
Recipes
For The Strawberry Shortcake
Tools
Used For The Strawberry Shortcake
.15 Liters
.25 Liters
For that perfect circle
For easy piping
Adds a unique touch
Adds elegance
Tips
For The Strawberry Shortcake
We layered our strawberry shortcake recipe into lovely small and medium sized mason jars. Using our cookie cutters, we found a size suitable to fit into our jars, and cut out appropriate size shortcakes before we baked them. After the shortcakes were baked, and the strawberry filling and whipped cream were made, we started layering: shortcake, then strawberry filling, then whipped cream, and repeated till we reached the top, finishing with whipped cream and a whole strawberry
Make sure that all your guests have the right (and unique) utensils to eat their delicious desserts. Attach wooden spoons to the rim of the mason jar by adding some
Lace Fabric Tape
. These small yet sturdy spoons will be perfect for enjoying a refreshing strawberry shortcake
Another option for a dessert table is a strawberry shortcake bar. Display the shortcakes, strawberry filling, whipped cream, and other toppings of your choice. This way, your guests can build their own strawberry shortcake to their preference. Extra whipped cream, please!
Presentation
Ideas For The Strawberry Shortcake
Display your strawberry shortcakes in small or medium mason jars, or a combination of both